Nem Dataindsamling, Let Graph Display, pc er ikke nødvendig
RTR-500 serien af håndholdte Dataopsamler til On-site Collection
Produkt Kode:
56-RTR-500DC
Belønning punkter:
Tilgængelighed:
På lager
Pris: 2,433 kr
Pris: 2,483 kr

Den RTR-500DC kan kombineres med en hvilken som helst af vores RTR-500 serie dataloggere. Da RTR-500DC er håndholdt, den kan nemt tages med overalt giver en stor fleksibilitet. Data fra loggeren(r) efter eget valg kan afhentes efter behov når som helst. Du kan kontrollere data på stedet i LCD og gem til collector's interne hukommelse.
Senere blev data lagret i RTR-500DC nemt kan overføres ved at tilslutte en PC med et USB-kabel og bruge vores "RTR-500DC til Windows" software.
Den RTR-500 serien giver dig mulighed for at mikse og matche en række trådløse radiokommunikation loggere med forskellige udredning med henblik på at opfylde dine behov.
Den RTR-500DC er en batteridrevet håndholdt dataopsamler. Den kan benyttes i dette felt for at foretage indstillinger, overvåge aflæsninger og advarsler, indsamle og kontrollere data uden brug af en PC. Da det er en bærbar håndholdt opkøber, er perfekt til steder såsom museer og drivhuse, hvor personalet laver runder for at indsamle data. Det er også muligt at vælge specifikke loggere til enhver tid på at indsamle data fra temperatur; fantastisk til håndtering af varer i transport.
Inter-aggregat
Meddelelse
Serielt stik, optisk, kortrækkende trådløse
Dataoverførsel
USB
Enhed - PC
USB, seriel
Standard Kit
Unit

Antenna

USB cable

CD-ROM (Software)

AAA Alkaline Batteries

Introductory Manual (Warranty)
Setup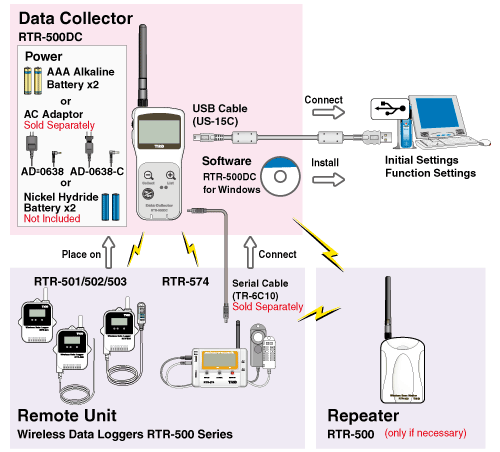 Communication Cable
TR-6C10 : Serial Communication Cable
Cable Length: 1.0m?40 in?
For communication between RTR-500DC and RTR-574
Examples of Usage:
For registering an RTR-574 as a "Visitor" to the RTR-500DC
For collecting data from the RTR-574 to the RTR-500DC via cable communication


AC Adaptor
AD-0638
Input : AC100-240V
Output : DC6V 500mA
Frequency : 50/60Hz
Cable length : 1.80m?74in?
Plug Type : A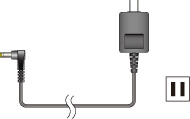 AD-0638-C
Cable length:1.80m?74in?
Input:AC100-240V
Output:DC6V 500mA
Frequency:50/60Hz
Plug Figure: C (with Plug Adaptor)
Wireless Communication Data Collector
The RTR-500DC can collect recorded data from Remote Units via wireless communication. The wireless communication range, if unobstructed and direct, is about 150 meters (500 ft). By setting up RTR-500 unit(s) as Repeater(s), it is possible to extend the wireless communication range.

On-site Graph Display
The data collected to the RTR-500DC can be immediately viewed in graph form on the spot without the need for a computer.
A graph is displayed for each channel of data. It is possible to view, for example, four channels of data measured and recorded by the RTR-574 by pressing the Operation Dial to switch the channel for viewing.
A simple yet functional graph of the RTR-500DC enables you to check the judgement result weather the set Upper/Lower Limit has been exceeded or not, check the highest and lowest readings, as well as zoom in and out.


Monitoring for Warning and Current Readings
Using the monitoring function, the RTR-500DC carries out wireless communication at a set interval with the registered Data Loggers (Remote Units) to monitor Current Readings and Remote Unit Status. The RTR-500DC also monitors for warnings in Data Loggers for which the Upper / Lower Limit settings have been made via the supplied software.

Managing Remote Units in Groups with One RTR-500DC Unit
An RTR-500DC can manage a large number of Remote Units. When registering multiple Remote Units, they can be divided into Groups by location or measurement item, each of which can then be assigned a communication frequency channel. The maximum number of Groups which can be registered in one RTR-500DC Unit is 7 (seven). Within each group the maximum number of Remote Units which can be registered is 32 (If using RTR-505 or RTR-574 or RTR-576 the max is 16).
Operating Same Remote Units via Multiple RTR-500DC Units
Multiple RTR-500DC Units can be used to communicate with one Remote Unit. It is possible, for example, to use one RTR-500DC Unit to monitor the Current Readings and another to collect data, or to have a number of workers carry one each.
It is easy to prepare the number of RTR-500DC necessary for the job. After having registered a Remote Unit its registration info can then be sent to multiple RTR-500DC (Base Units), either by using the software "RTR-500DC for Windows" and copying the Base Unit registration info into a multiple number of Base Units, or by using the "Visitor Entry" function by having the Base Unit read the Remote Unit info directly without using the software.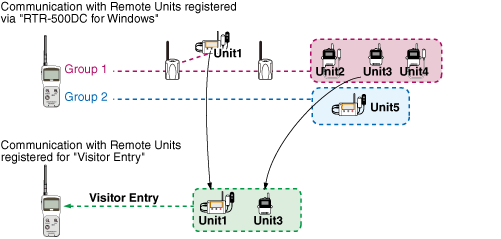 The "Visitor Entry" function enables any RTR-500DC unit to accept "visitors" or Remote Units which have been previously registered to another RTR-500DC; allowing any RTR-500DC unit to directly communicate with the accepted Remote Unit without the need for registration via a PC. Note that this function can only be used with Remote Units that have already been registered.

Application Example A:
For monitoring warnings and downloading recorded data from a Remote Unit registered as a "Visitor" in the cargo compartment of a truck.

Application Example B:
For downloading recorded data from the Remote Unit(s) registered as "Visitor" to the multiple Base Units.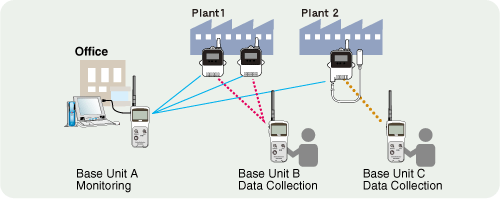 Ready for Use Without Troublesome Preparation
The RTR-500DC does not need troublesome preparation such as creating a network environment or carrying out wiring. All you need is a PC and accessories to use an RTR-500DC. By using the supplied software, you can carry out registrations and settings for Data Loggers to use with the RTR-500DC Unit, as well as the Unit operations such as downloading of the collected data to a PC, saving, and graph display.
Easy One-Hand Operation
The handy Operation Dial makes the operation of the RTR-500DC simple; moving the dial up and down displays the various menu selections which can be easily selected by pressing in on the dial. Easy-to-read LCD and simple menu structure enables a quick intuitive operation on site.

Various Power Supplies and Energy Saving Function
Power is provided by two AAA alkaline batteries. It is also possible to supply power to the RTR-500DC Unit from AAA Ni-MH batteries, USB bus power, or AC adaptor (optional).
The energy saving function will automatically turn off the Unit to save battery power if the Unit is not used for about three minutes.
LCD Backlight Display for Reading in the Dark
The RTR-500DC has a LCD backlight display to help you read data even in the dark. If the Unit is not used for more than five seconds, the LCD backlight will automatically turn OFF to save battery power. Once operation is re-started, it will automatically turn back ON. When the Unit is connected to an AC adaptor, the backlight remains ON.
Easy Firmware Update
The latest information and programs for the Unit, such as firmware updates, are available from the Support Page of our T&D Website. You can update the RTR-500DC firmware on your own to support the changes of the compatible devices as new models are released, for example.
Blot sælges
Om Termometer.dk - Dansk
På Termometer.dk vil du finde instrumenter fra Extech som er en af ​​verdens største producent af måleinstrumenter, optiske instrumenter og elektriske instrumenter til meget rimelige priser, takket være et effektivt logistik flow og salg uden mellemled. Du vil finde en sådan IR termometre, elektriske måleinstrumenter, refraktometre og inspektion kameraer. Vi ser frem til at hjælpe dig med moderne instrumenter, fra en af ​​verdens største producenter vil være i stand til at spare både tid og penge!